How to See Sensitive Content on Twitter: A Step-by-Step Guide
Sensitive content filters on Twitter are in place to ensure user safety and adherence to community guidelines. However, adult users who wish to view sensitive content can adjust their settings accordingly. In this article, we will walk you through the process of enabling viewing sensitive content on Twitter, as well as provide insights into how Twitter identifies and moderates such content.
How to View Sensitive Content on Twitter
To view sensitive content on Twitter, you can modify your settings to allow its display at all times. Here's a step-by-step guide:
On your desktop computer, log in to your Twitter account and click "More." If you're using the Twitter mobile app, simply tap your profile icon.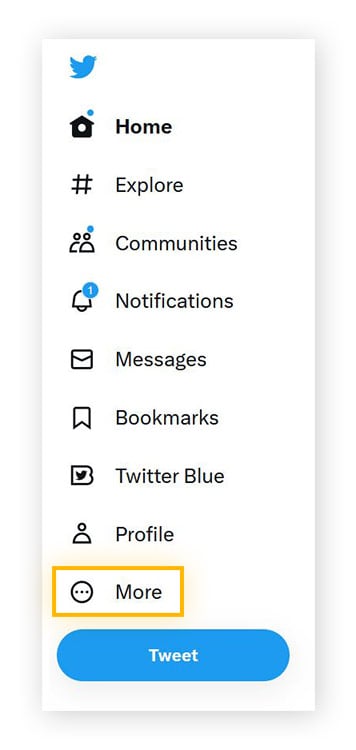 Select "Settings and Support," then "Settings and privacy."

Click on "Privacy and safety," followed by "Content you see."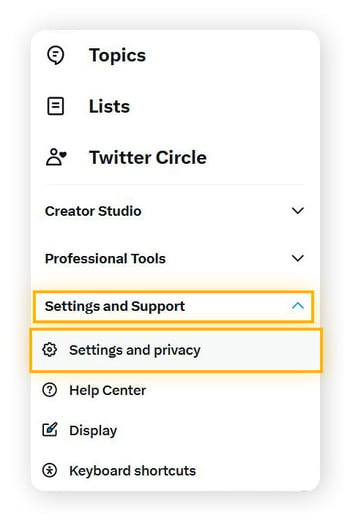 Check the box next to "Display media that may contain sensitive content" to enable the visibility of sensitive content (or uncheck it to disable it).
How to Change Your Twitter Search Settings
You can also modify your Twitter settings to include sensitive content in your search results. The process is similar to enabling sensitive tweets and is outlined as follows:
How to Turn Off Sensitive Content on Twitter Searches
To remove sensitive content warnings from your Twitter timeline, follow these steps:
On your desktop, log in to Twitter and select "More." On the mobile app, tap your profile icon.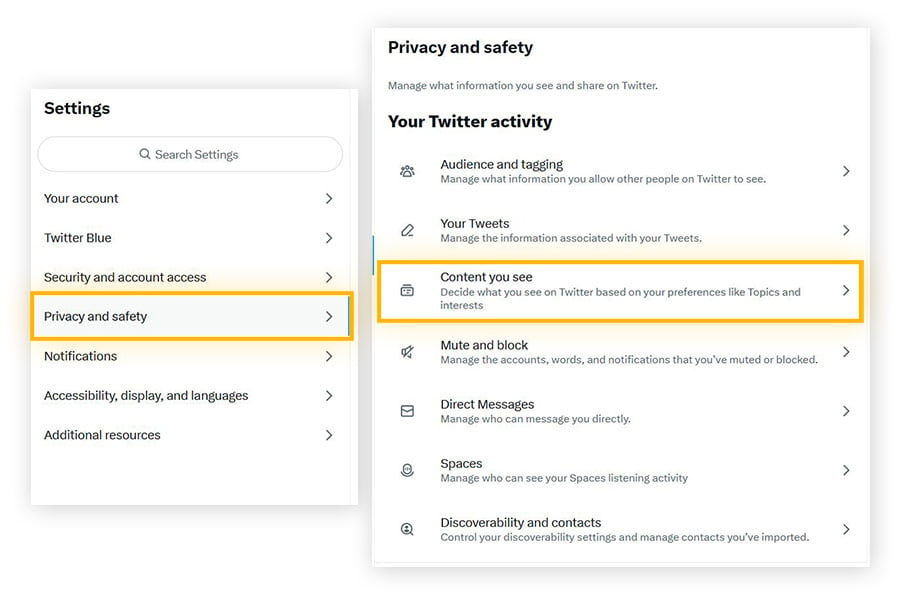 Navigate to "Settings and Support," then "Settings and privacy."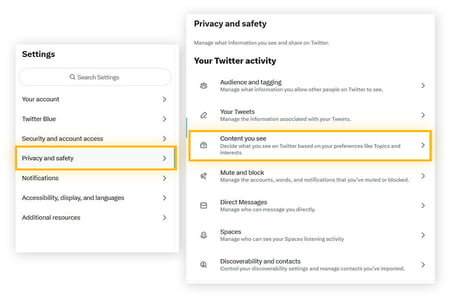 Choose "Content you see," then "Search settings."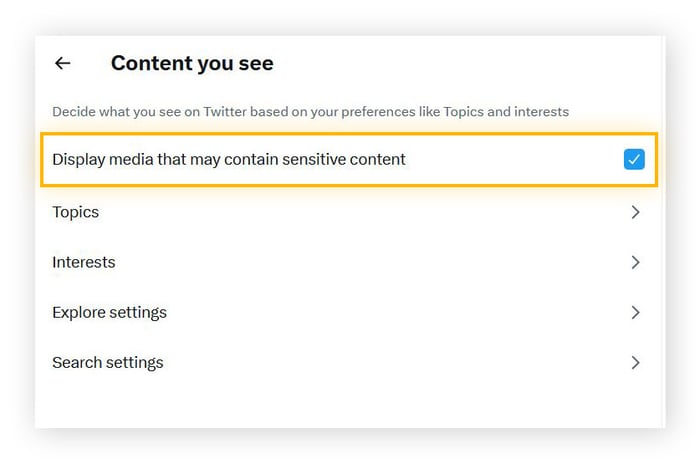 Select "Hide sensitive content" to exclude it from your search results, or uncheck the box to display it.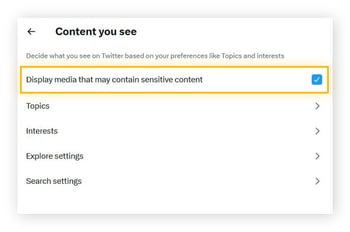 Now that you are familiar with the process of adjusting sensitive content settings on Twitter, let's explore how Twitter identifies and handles sensitive content.
How Twitter Identifies Sensitive Content
Twitter employs algorithms to identify potentially sensitive content and media that may violate their policies. Users can also report and label sensitive content themselves. Whether flagged by an algorithm or a user, the content undergoes manual review by the Twitter content moderation team to determine if it meets the "sensitive" criteria.
In recent times, amidst layoffs at Twitter in November 2022, the content moderation team was significantly downsized. As a result, algorithms and Twitter users themselves now play a prominent role in content moderation on the platform.
How to Mark Your Content as Sensitive on Twitter
To avoid any concerns regarding sensitive content, it is advisable to proactively flag any potentially sensitive content you share. You can do this by adjusting the privacy settings on Twitter for individual tweets or for all your posted content simultaneously.
How to Mark Individual Posts as Sensitive Content on Twitter
Follow these steps to mark individual posts as sensitive content on Twitter:
On the Twitter homepage, click the tweet icon to open the tweet editor.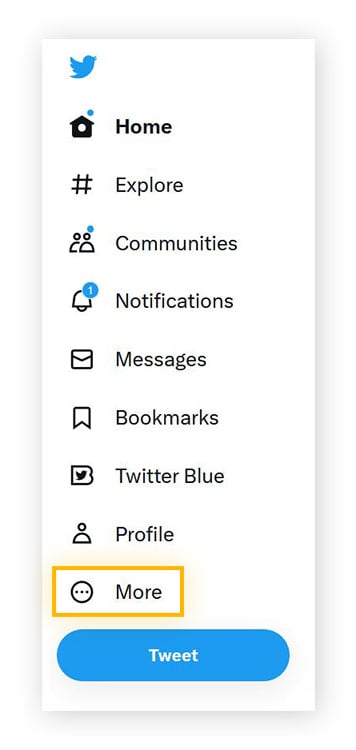 Tap the image library or camera icon. Select an image and tap the paintbrush.

Click the "Flag" option at the bottom right.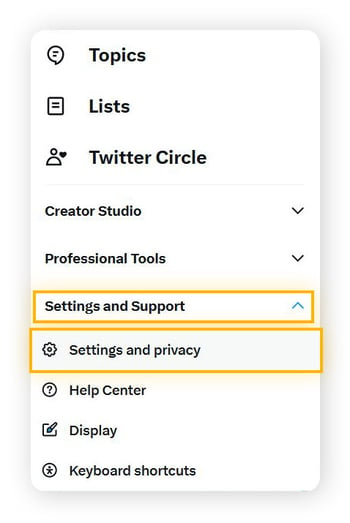 Select the relevant checkbox next to Nudity, Violence, or Sensitive. Tap "Done." This action marks your content as sensitive, resulting in blurred media when displayed to other users.
How to Mark All Your Posted Content on Twitter as Sensitive
To flag all your posted content on Twitter as sensitive, perform the following steps:
In the main Twitter menu, click your profile icon (or "More" on desktop). Select "Settings and support," then "Settings and privacy."

Choose "Privacy and safety," then "Your Tweets." Toggle this setting on to flag your content as sensitive, or toggle it off to remove the flag.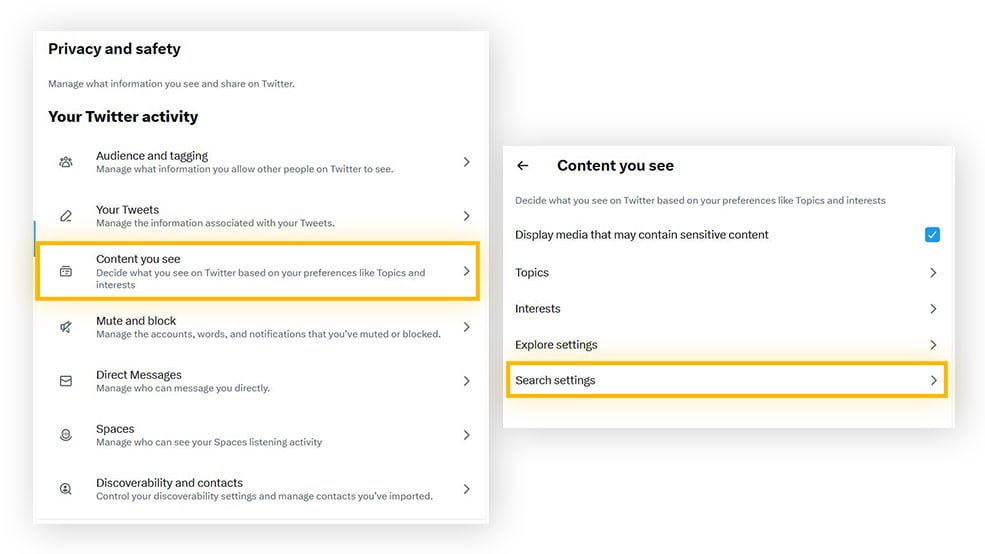 Content Warnings on Twitter
Content warnings on Twitter apply to material that might be considered sensitive by certain users. These warnings encompass descriptions or depictions of violence, sexual behavior, or nudity. A tweet with a content warning is concealed behind a gray box that can be clicked to view the content.
Content warnings on Twitter are primarily user-generated, either through self-flagging or reporting by other users. Therefore, some content might slip through the monitoring process.
Potential Risks of Viewing Sensitive Content on Twitter
The main risk associated with viewing sensitive content on Twitter is the potential exposure to disturbing, offensive, or upsetting material. Depending on your comfort level with online content, this could pose a risk to your mental well-being.
There is also a risk of feeling compelled to share or retweet such content. It's important to remember that social media platforms are not always reliable sources of information, and they can have adverse effects on mental health. It is advisable to maintain composure while using Twitter.
Furthermore, using Twitter, including viewing sensitive content, may expose you to potential risks related to past Twitter activity. Practicing good social media hygiene by deleting outdated tweets and unfollowing accounts that no longer align with your values can help mitigate the possibility of future embarrassment or backlash.
If you are concerned about your online activities being tracked, you can consider using a VPN while using Twitter and other social media platforms to help protect your browsing history.
Twitter's Privacy and Safety Settings
By default, Twitter profiles are public, allowing for open discussions and interactions. However, this openness comes with certain drawbacks, such as the ability for anyone to retweet your tweets or tag you. This leaves users vulnerable to scams and public criticism.
To enhance your safety on Twitter, you can protect your tweets. With a protected account, new followers need approval, and only your approved followers can view your tweets. However, protected tweets cannot be retweeted or linked, limiting their visibility.
Using Twitter Responsibly
To use Twitter responsibly, it is crucial to think before you tweet. Emotional tweets often serve the purpose of provoking reactions, rather than conveying accurate information. It is important to be cautious when sharing or retweeting content that targets individuals, as it may lead to harassment.
Avoid sharing personal information, as this not only exposes you or others to offline harassment but also puts you at risk of dangerous hacking or doxxing incidents.
If you encounter accounts that tag you in tweets, send you retweets or direct messages about special offers, promptly block them. While gaining more followers may be tempting, if something sounds too good to be true, it is most likely a scam.
Twitter itself fell victim to a spear phishing attack in 2020, which resulted in high-profile accounts being hacked and used for Bitcoin scams. The hackers managed to scam more than $100,000 worth of Bitcoin from users before the tweets were deleted.
Stay Safe on Twitter with AVG AntiVirus Free
Let AVG AntiVirus Free act as your Twitter security guard. It detects and blocks links containing viruses, malware, and phishing scams, while also alerting you to unsafe links and webpages. Additionally, it provides 24/7 scanning for system vulnerabilities and threats to keep you safe online.
With instant email password hack alerts and a network inspector to protect your home network from unauthorized access, AVG AntiVirus Free ensures secure browsing. Browse the web with peace of mind with AVG.